When Elizabeth Rowell married C.O. "Dogtown Slim" Leuschner, she probably had no idea that she was marrying a man that was quite like her father Harry. Dogtown has a history as colorful and amazing as Harry Rowell's life. Dogtown has a legacy with the words "real cowboy" and "rodeo legend" written all over it.
Charles Oscar "C.O." Leuschner was born in Waco, Texas in 1913. During his long, colorful career he was a cowboy, cattleman, bronc rider, bull dogger, a rodeo stock contractor, a rodeo producer and then after his "cowboy" career came to an end, then owned Quarter Horse and ThoroughBred race horses.
At age 16 he was a "brush popper" working cattle along the Nueces River in South Texas near Tilden, Texas. The town of Tilden was affectionately known as Dogtown because there were more dogs in Tilden than people. His uncle Henry Grammer, a world champion steer roper from Oklahoma, was best friends with the famous silent movie star, Tom Mix. C.O. got a job working for Tom Mix taking care of Tom Mix's horse Tony and worked for Tom Mix for a couple of years.
He got his nickname "Dogtown Slim" from noted South Texas horse breeder George Clegg and very famous steer roper Ike Rude. In 1932, George Clegg and Ike Rude arrived at the Tilden rodeo in search of a good roping horse. They arrived just in time to watch local cowboy C.O. Leuschner get down on a big, rank steer during the bulldogging. According to C.O., things got a little "western" and when he finally got to his feet his clothes were half-torn off and he had a mouthful of dirt and a horn in each hand.
Later that same year C.O. was in Chicago, Illinois for the rodeo. He was leaning against a lamppost on Madison Avenue, when Bob Crosby, Dick Truitt and Ike Rude arrived from the Pendleton Rodeo. Ike immediately recognized the skinny cowboy and Ike and Dick decided that it was going to be a big show in Chicago because "Slim from Dogtown" had arrived. From that moment on he was known as "Dogtown Slim".
In 1936, when the rodeo cowboys when on strike at a 1936 Boston Rodeo, a document was written and passed around to be signed by the contestants. This was known as the first "cowboy strike" and the cowboys were demanding that the prize money be doubled and the entrance fees be added to every event. Any contestant failing to sign the petition would not be permitted to compete, by the order of the undersigned. Dogtown was one of the now famous signatures.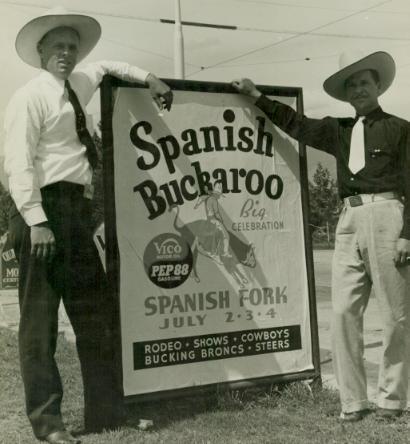 C.O. Leuschner "DogTown Slim" (left) at Spanish Fork Rodeo
Dogtown Slim taking a nasty fall off of Funeral Wagon
This action prompted the formation of the United Cowboy Turtle Association. It was said that the name "Turtles" was attributed to Everett Bowman. He supposedly said with humor that the cowboys ought to be called turtles, since it had taken them so long to form an organization.
During his long rodeo career, he rode broncs and bulldogged. He went to England in 1934 as a contestant in the Tex Austin Rodeo and rode his last bronc there. He decided to specialize the in the bull dogging event.
It is appropriate here to mention the history of the event known today as steer wrestling. A very famous cowboy from Oklahoma, named Bill Pickett is credited with starting this event. Dogtown's Uncle Henry Grammer, a very famous steer roper during his time, worked with Bill Pickett on the famous 101 Ranch in Oklahoma. Dogtown also knew Bill Pickett and learned the sport from him. Dogtown was the first cowboy to introduce the sport of steer wrestling to California as he performed the first steer wrestling event at the Hayward Rodeo put on by Harry Rowell.
Dogtown was riding Everett Bowman's famous steer wrestling horse "Coon Dog" in 1935 when he tied Rube Robert's record in Denver by throwing a steer in three seconds. Other great horses that he rode included Monte, Streak, Hazel Eyes, and Pickpocket. He also owned a famous horse named Red Miguel. Dogtown would travel from rodeo to rodeo on horseback. He would ride a horse and lead Red Miguel. Dogtown was a typical rodeo cowboy of his time sleeping under the stars and riding up to 60 miles to get to a rodeo.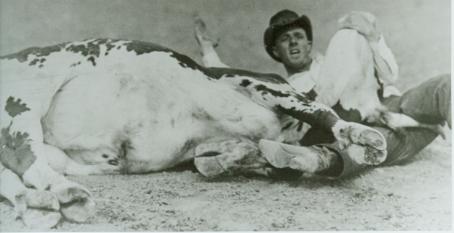 Dogtown bulldogging at Pueblo State Fair, Pueblo, Colorado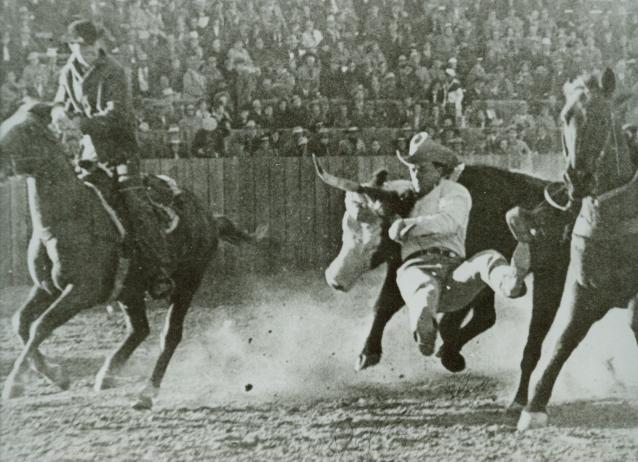 In 1937, he went into the rodeo stock contracting business and bought Jack Dew's, from Tucson, Arizona, rodeo stock. He acquired top bucking horses such as Hell To Set, Dark Alley, Nightmare, Black Spider and Booger Red.
In 1938, his rodeo career ended, however, in Tanforan at the rodeo there. He broke his back bull dogging and it took many months to recover from it. After that he became a full-time rodeo stock contractor and producer. He was headquartered in Hayward, California and worked with Harry Rowell. He called his stock contracting company The Wild Bunch. He owned famous bucking horses such as Hell to Set and Dark Alley. He sold his rodeo stock and went to work training race horses.
Dogtown won the Central Bar & Grill Futurity in Ruidoso with a horse named Redskin in 1949 and also ran another horse there in 1975 at the All American Futurity.
During the 1950's he moved to San Antonio, Texas where bred, pastured and handled over 10,000 head of cattle that belong to Raymond Bell of the Hacienda De Atotoniclo in Mexico. After he sold all the cattle, he stayed on to handle and sell the cattle for the new owner.
Dogtown Bulldogging in Tuscon, Arizona, 1936. He is riding the great Bulldogging horse Coon Dog and John Bowman is hazing on Pick Pocket
In 1967, he was hired as an assistant trainer at the now famous Camulet Farms in Kentucky. Camulet Farms has produced more Kentucky Derby winners than an other Thoroughbred Farm in the world. There he had many horses in his care, up to 30 at a time. His horses won the Hibiscus, Everglades, Blue Grass, Florida Derby and the American Derby. One of his horses, Forward Pass, went on to win the Kentucky Derby and the Preakness and ran second in the Belmont Stakes.
Dogtown left Camulet Farms in 1969 and went back to California to train his own Thoroughbreds. During this time he married Teresa Harris, of the Harris Ranch in Coalinga, California. He also worked for Jack Harris buying/selling his cattle. After many years in California, he returned to San Antonio and continued to train some race horses in Texas.
Dogtown was diagnosed with lung cancer in July, 1995. In August, 1995 he was nominated to the National Cowboy Hall of Fame. However, he missed being elected by one vote. He died a couple of days later in October, 1995. In 1996 he was nominated again and was elected into the National Cowboy Hall of Fame. The induction ceremony took place on what would have been his 83rd birthday.
He is survived by his grandchildren Sonny, Desiree and Paige and his great-grandson CJ.
Sonora Red - one of the best bucking bulls ever to grace the sport of Rodeo - Owned by Dogtown and his rodeo stock contracting company - The Wild Bunch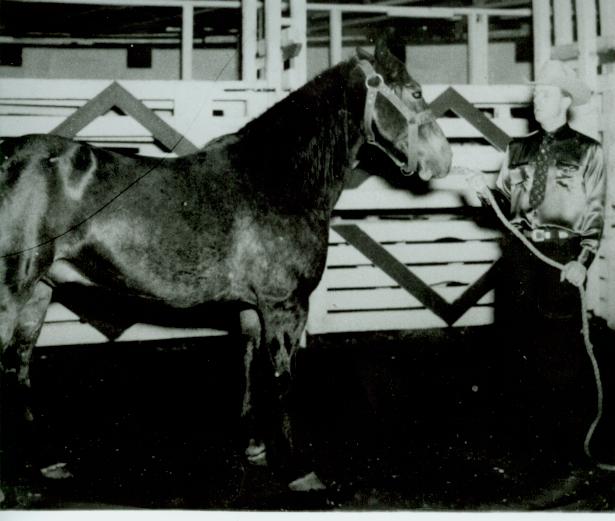 Dogtown and Hell to Set - one of the most notorious bucking horses of its time. This picture was taken at Madison Square Garden in New York City, New York in 1940.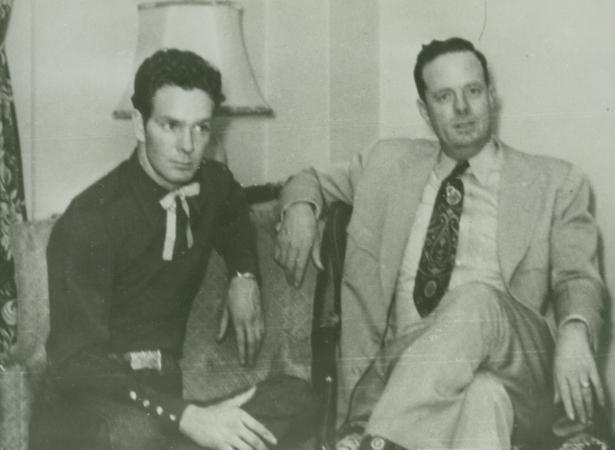 Casey Tibbs, left and Dogtown Slim at the Gunter Hotel in San Antonio, Texas.
Casey and Dogtown remained great friends throughout their lives.
Dogtown on Miguel Red - his very famous bulldogging horse. Notice the saddle blanket with the Running W brand. It was from the King Ranch in Kingsville, Texas. Dogtown was good friends with the Easts of the King Ranch and worked on the King Ranch raising cattle and training some of their race horses.
Dogtown with his race horse "Pasiano Prince" winning The Graduation Stakes at Del Mar on July 31, 1970. His wife, Teresa Harris Leuschner is standing to his left.
C.O. "Dogtown Slim" Leuschner

The Harry Rowell Family
A Rodeo Legacy