BENJAMIN - RESCUE DOG - NEEDS HELP!!!
Below is Benjamin, a 3-year-old Great Pryeneese male. Benjamin was found on the middle of a busy country road in Heald, California by Rochel, a member of Friends of Animals. Benjamin has only 5% body fat which caused him to lose his hair. He has "cauliflower ear" from so many ear infections that were not treated. He is highly malnourished and is very tired and scared. I have had him at my home in foster care (yes - the big, bad rodeo animal thug - ME - is caring for this rescue dog) for about two weeks. He is doing better, but his care is very costly. Right now we are up to about $700 in vet bills not to mention food, wormer, ear medication, heartworm and flea care.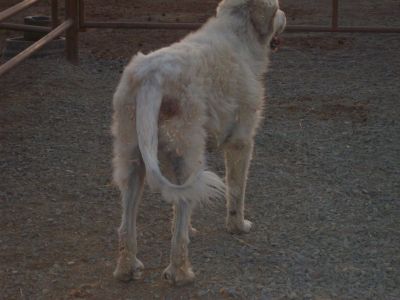 Update on Benjamin - Yes the Big Bad Cruel Rodeo Person Me along with my Family nursed Benjamin back to health with NO HELP FROM THE SHARKIES - NOT A DIME
Here is Benjamin Today - 04/30/2009: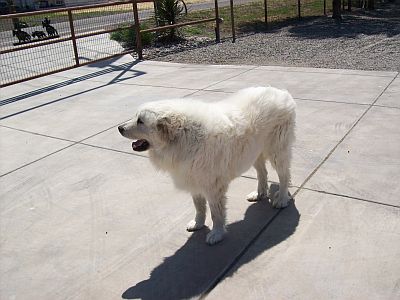 One Hundred Twenty Pounds - Happy & Healthy - My Family Decided to Keep Him because he took our hearts. He is a wonderful addition to our Family and we are thankful that we have him.
Benjamin is going to need anywhere from 35 to 65 days of good care, feed, and love before he can be put up on the Great Pryeneese Rescue of Northern California's website for adoption. He is a wonderful dog and a great guardian livestock dog. So my challenge to the so-call Animal Rights SHARKIES: Let see if you can walk the walk as well as talk the talk. Let me see you send a CHECK, which means money, to the Great Pryeneese Rescue of Northern California for Benjamin. Let's just see if you really care about animals...After all the insane lawsuit you filed against the State of Califonria for your stupid Tiger truck, must have cost a little fortune. Again, let's see if you really care about animals. Here is the website:
Just an FYI - I am not holding my breath..
If you have any questions about this web site please email webmaster
No Material, Text, Pictures, on This Web site May Be Copied
Or Reproduced Without the Permission of the Webmaster.